2013-2014 Bucknell Greek Awards
Apr 30, 2014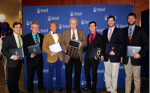 At the end of every spring semester, the Office of Fraternity and Sorority Affairs hosts an awards dinner to honor the efforts of all the Greek chapters on Bucknell's campus. The dinner is a chance for the entire Greek community to come together under the common theme of leadership. As with any gathering amongst the PanHellenic and inter-fraternal leaders, the sense of camaraderie in the room was overwhelming.
Our brothers have enjoyed great success at this banquet in the past, and this year was no exception. Spenser Frieri '14 was crowned Outstanding Senior, which is awarded to one fraternity member in the senior class who demonstrates outstanding leadership and academic prowess. Daniel Eshleman '14 was awarded with a Fraternity Pillar Award, distinguishing himself as a well-rounded Greek member, and William Evans '14 received the John P. Dunlap award for his exemplary presence on campus.
The Phi Lambda Theta chapter as a whole was lauded as well. We were awarded for our excellence in recruitment, and our excellence in new member education and programming. Additionally, we received the Campbell Rutledge Jr. award for having the highest collective GPA of any fraternity on campus.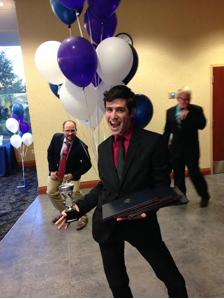 All of these accolades culminated in our chapter receiving the award for Chapter of the Year, an honor we were fortunate to receive for the second year in a row.
Receiving these prestigious awards ignited a fire in the bellies of all of the brothers, giving us even more motivation to keep up our good reputation. This was evident in our latest committee chair elections, which saw more competition than ever before—each brother trying to do his part to give back to the fraternity, ensuring our success in the future.
- Brett Walter, '15