2014 Alpha's Academy
Jan 18, 2014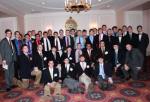 From January 10th to the 12th, I was in Atlanta, Georgia, at the third annual Chi Phi Alphas Academy. It was an amazing opportunity for me to grow as a brother and leader of the Phi Lambda Theta chapter of Chi Phi. The national office held a lot of events and speakers that were aimed at. The ability to meet with many of the important figures in the national office prior to my term was also an excellent experience, since these are the people that I have to communicate with in order to be an effective Alpha for our chapter.
The most helpful experience from the weekend, however, was the opportunity to meet with the Alphas of other chapters from all around the country. The ability to discuss the issues and opportunities that face our chapters was an incredibly helpful one. Our discussions provided me with useful insights into the management of other chapters and, by extension, better ways to manage our own.
These conversations would have been hard to have with presidents of other chapters on Bucknell's campus, but they were easy to have with my brothers from around the country.
This event also helped to reaffirm my commitment as brother of Chi Phi. It was impossible not to feel the brotherhood that pervaded the event, despite having only known the brothers for a few days. I became fast friends with the Alpha of the Psi chapter at Lehigh, and the attendees as a whole have kept in touch very well. As a chapter, Phi Lambda Theta always prides itself on having a diversity of membership in both backgrounds and interests, and I was glad to see that our national fraternity reflected this sentiment as well. I thank the alumni and the chapter in their financial support for my trip to Atlanta, and I hope that I am able to repay that in terms of effective leadership for Phi Lambda Theta.
- Alpha Chris Capecci, '15