Fall Camping 2013
Oct 9, 2013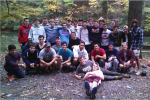 What better place to strengthen brotherhood than in the great outdoors?! Thirty-five rugged men endured one night in the middle of Sproul State Forest, at Kettle Creek State Park on October 5th, and it was surely a night not to be forgotten.
The night started with Chi Phi members arriving to take over one end of the campground in waves. Nine tents spread over ten campsites in a matter of minutes and the fun began. A few took to the tranquil Kettle Creek, which flowed just feet away from the campsites, to try to fish. The only successful anglers were Matt Argiro '14 and George Green '16, so we had to settle on steaks, potatoes, and hot dogs over an open fire for dinner. After dinner, we sent out scouting parties to gather firewood, which brought back enough for a roaring fire. New member Alec Creta '16 and I even proved our lumberjack abilities in taking out a whole tree. The accomplishment became a lot less satisfying when we realized we had no means of cutting it to fit in the fire ring, and discovered rashes on our stomachs the next morning from climbing all over it. Nonetheless, the night was full of great memories sitting around the fire, telling stories, playing pranks, and roasting marshmallows.
The next morning, camp was quickly packed up after a hearty breakfast of leftover steak and eggs. On the way back home, we stopped at Kettle Creek's most famous spot, Big Rock, to take the plunge into the icy water. Big Rock is exactly what it sounds like, a gigantic boulder that rolled down the mountainside many years ago and landed itself upright, in the middle of the creek. It is about 30 feet high and has a small circular water hole about 7 feet deep out in front of it. About 15 brothers were courageous enough to take the plunge. Most who jumped want to come back and try again in warmer weather. Overall, the camping trip was a success; it was a great way for the new members to integrate with the active brothers in a setting most of us don't get to be in very often. Hopefully, camping will live on as another one of our storied traditions.
- Mark Hedgeland, '14