Fundraiser for Chef Mark Sparaco
Apr 25, 2014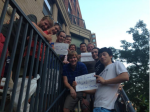 My mother had always told me "Don't bite the hand that feeds you." This simple rule can go a long way in life, and is undoubtedly one of the most important mentalities to have in a Fraternity. The importance of the Fraternity chef is unmeasurable, as they are responsible for fifteen of our weekly meals, and without them, we'd surely resort to meals of hot pockets and potato chips. From the moment I joined Chi Phi, Chef Mark Sparaco was there to help. He was someone that anyone could talk to if they had some problems going on. There was a deep bond between Mark and the brothers, made apparent by the frequent invitations to his house and his presence at any event where alumni were present.
Unsurprisingly, the news of his heart attack this past summer sent a panic through the fraternity. It wasn't the uncertainty of finding a new chef that worried everyone; it was the uncertainty of our friend's well-being. Talk of donations started immediately, and a Go Fund Me™ was responsible for raising over $10,000 in a couple of days.
Another local fundraising happened this past February at the Shamokin Dam Fire Company. Over 20 brothers went to the event (more would have surely gone, but the event was only for those 21+). Upon our arrival, Mark's impact on the local community was made apparent by the massive turnout. The packed house enjoyed a night of great food, good music and each other's good company.
Through donations from brothers, the kitchen and the chapter itself, Chi Phi was responsible for raising over $2,200. While there has been a significant amount of money raised, Mark's recovery is far from over, and physical therapy and medication bills are still coming in. Mark was recently awarded the honor of becoming the fifth honorary member of the Chi Phi Fraternity for his outstanding service to the chapter.
Any donations would be appreciated, and can be sent to the following address:
Chris Capecci
Chi Phi Fraternity
701 Moore Avenue, C-3961
Lewisburg, PA 17837
-Sam Schlitzer '14