Homecoming Weekend 2013
Oct 31, 2013
Bucknell hosted Homecoming Weekend on campus from October 25th through the 27th. While there was no extravagant tent party hosted for the alumni on the quad like last year, the Phi Lambda Theta chapter of Chi Phi provided a weekend full of excitement for actives and alumni alike.
The actives welcomed alumni back to the house starting as early as Wednesday with many more coming in during the end of the week. Many recent alumni stayed with old friends who lived in the house and everyone was glad to reminisce about the past classes of brothers of Phi Lambda Theta. The chapter hosted an event on Friday night where brothers and alumni had the chance to interact and talk about events past and create even more memories while relaxing on the porch overlooking campus or playing billiards in the trophy room.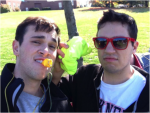 On Saturday morning, while many brothers and alumni were filling up the local Dunkin Donuts, the alumni board and chapter representatives were hard at work during the fall alumni board meeting. Following the meeting, the annual Active vs Alumni Football game was held on McDonnell Lawn behind the chapter house. The game was a strong battle of the defenses. In the last seconds of the game, with the score tied, the alumni team managed to get a game winning safety after pinning the actives back against their own goal line. A newly selected trophy will remain displayed in the chapter house marking the yearly winner of the game, with the inaugural 2013 entry being the alumni.
To conclude the weekend, Phi Lambda Theta hosted its annual Homecoming Banquet at the Lewisburg Hotel on Saturday night as a final celebration for another successful homecoming weekend. In attendance were 119 brothers, alumni, and guests who gathered to reminisce and reflect on their time with the chapter and provide insight into the future. As per traditions, Tom Deans '56 gave welcoming remarks and reflected back on the history of diversity and acceptance our chapter strives to achieve. Brother Tyler Chlebowski '16 gave a speech on the thoughts of the chapter from the perspective of a new brother and how we stand out as a chapter on campus for reasons such as acceptance, brotherhood, and academics. To end the night of speeches, our current and past Alphas spoke regarding how they have all seen the chapter grow and reach new heights and told all the actives to keep progressing and achieving greatness while not forgetting where the chapter came from.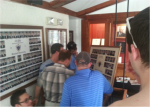 As an added bonus, Mark Sparaco, the past chapter chef was present at the Homecoming Dinner. Marks condition has improved significantly following a heart attack sustained this past summer. It was a welcome reunion with the brothers and alumni with whom Mark has made close bonds with throughout his years working at the chapter house.
All of the alumni and actives thoroughly enjoyed the events of the weekend. It was great to see how Phi Lambda Theta has evolved over the years and to see all of the alumni who have provided the active with a strong base to continue reaching for excellence
- Matt Argiro '14