Pig Roast 2014
Mar 25, 2014
On Friday, April 11, the Phi Lambda Theta chapter got together to host their annual Pig Roast with two full pigs. Because of the cancellation of House Party, the roast (which usually occurs that weekend in March) benefitted from warmer weather, but also some scattered April showers. Despite the clouds and a light rain, the men were still able to gather a crowd and enjoy several hundred pounds of pig.
The roast began at 5 a.m. on Friday morning. Brothers Will Evans '14, Davis Gallinghouse '14, Jordan Rivera '14, Peter Puleo '16, Geoff Barnes '14, and I brought some chairs and a couch out to the parking lot to make ourselves comfortable while the charcoal and propane began burning.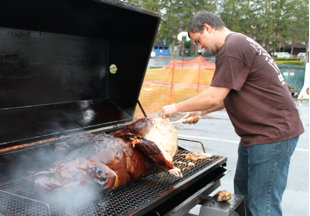 As the sun finally rose and brothers woke up for classes, the crowd around the roasters grew. Throughout the day brothers and other members of the Bucknell community would come and go, enjoying the smell of roasting pork and charcoal. While the composition of the crowd changed over the course of the day, the two roasters were regularly surrounded by good company and great conversation. After twelve hours of roasting, the brothers opened the tops of the roasters, and opened the doors to their guests. Word had spread around campus about the annual pig roast, resulting in attendance from friends, brothers, and potential new members alike. Guests showed up at five, twelve hours since the cooking process began, to get some of the fall-off-the-bone pig whose smell had been wafting across campus all day.
In addition to the pulled pork sandwiches, our chef, Penny Zimmerman, had also made delicious baked beans and coleslaw to accompany the barbecue meal. Guests and brothers wandered in and out of the house, playing pool inside, or enjoying the warm weather outside with some lawn games like corn hole or horseshoes.
When the event finally came to a close, the two pigs had been stripped clean and everyone left satisfied with a full stomach. The pig roast was a great opportunity for Chi Phi to open its doors to the entire Bucknell community and allow some potential new members a glimpse of what being a Chi Phi is about.
- Ben Gordon, '16