Special Olympics 2014
Apr 22, 2014
Every spring semester, the brothers of Chi Phi and the sisters of Kappa Alpha Theta work with the Special Olympics of Pennsylvania to host a swim meet at Bucknell. Over 50 special needs athletes from five counties competed in a wide variety of individual and team-based swimming events while parents, coaches, and volunteers (including 75 of our brothers) cheered them on.
The goal of the event is to empower individuals with intellectual and physical disabilities to reach new heights, build friendships with Bucknell students and their peers, and to have fun. This year, the Special Olympics committee sold wristbands in the Elaine Langone Center to Bucknell students and faculty to raise money for, and promote the event. Additionally, this past fall, the committee teamed up with a local Lewisburg business, Pizza Phi, and took over for a night. Brothers helped them make pizza, sandwiches, and took orders from customers, receiving ten percent of all sales from that night. Our main fundraising however, came from soliciting donations from parents and local businesses.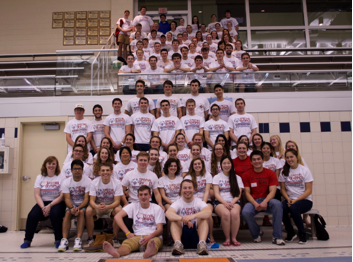 After the swim meet, awards were distributed to all of the athletes. The room was full of emotion as each participant's name was called, followed by the applause of our brothers, other volunteers, and the friends and family of the competitors. The athletes bounced excitedly out the same doors that they had come in only hours prior, carrying their ribbons, posters, and medals, smiling from ear to ear.
We are looking forward to hosting this event for years to come. We are confident that the strength of the chapter and the support of the alumni will continue to make the Special Olympics Swim Meet a uniquely inspiring and impactful event. This year, we raised over $4,000 for the Special Olympics, and we hope to raise that number next year.